The Blackbelt Mastermind Bootcamp!
NEXT BOOTCAMP IN DUBLIN Saturday 8th September 2018!
Full Day of motivational speaking, practical work for implementation, fun interaction, mindfulness, Neuro-Linguistic techniques and strategies.
With the help of cutting edge NLP and the M.A.S.T.E.R (TM) System, created by your host and Mind Coach Danielle Serpico (Author of 'The Blackbelt Mastermind') you will learn how to become the Blackbelt of your mind and ultimately gain a better and more fulfilled life.
Read some testimonials here
https://theblackbeltmastermind.com/testimonials/
and see more at https://theblackbeltmastermind.com/the-blackbelt-mastermind-bootcamp-dublin-life-coaching/
Masterful attitude, strength and tenacity equal results…..!

Are you looking to make big changes this year?
Would you like to know more about yourself and how your mind works?
Have you got an idea but don't know how to go forward from here?
Would you simply like more confidence or self belief to help you move on?
Then this is the time that YOU need to put aside just for you!
BOOK HERE!
https://www.eventbrite.ie/e/copy-of-the-blackbelt-mastermind-bootcamp-dublin-tickets-19510861512
A few words from your Mastermind Coach;
"Your beliefs become your thought,

Your thoughts become your words,

Your words become your actions,

Your actions become your habits,

Your habits become your values,

Your values become your destiny."

Ghandi
Sometimes what we believe is not always the truth – and yet – to us, it may seem so.
What we believe is simply our 'map', our way in which we see and perceive the world.
Becoming aware of this and learning how to open your mind to new possibilities and perspectives can be a very enlightening and hugely powerful experience.
Realising that we often hold on, unbeknownst to ourselves, to negative and limiting beliefs, allows us instead to analyse them. We can then decide if they are useful or beneficial and ultimately affords us the potential to just let them go. This results in huge growth and change, resulting in a new, brighter and more open and creative mind.
Imagine… how would life be different for you, with the skills, ability and confidence to look at every challenge face on knowing you are in control?

What could you do differently, once you have the knowledge that you will succeed and have all the resources you need already within you
It all starts with a decision….
This is when you will learn how you work, your strategies, your habits and how you sabotage various elements of your life!
You will rid yourself of negative, self sabotaging beliefs and useless strategies so that you are free to concentrate on the things that will enhance your life.
This is when you also learn the skills and techniques as to how to change these habits and kick start healthier and more beneficial patterns.
What you will gain from attending…
Insight into how others think and being able to read them better
Ability to have better relationships
A better attitude and ability to deal with obstacles and adversity
More confidence and self belief
Clearer focus, determination and motivation
Acquire the Blackbelt Mindset for you to succeed
YOU will take back control,plan out your future timeline and take action on your big idea!!!On completing this course you will also receive Certification to The Blackbelt Mastermind Academy! – This confirms your Introduction to NLP with The Society of NLP and is 'Phase 1′ of getting Accredited Certification as an NLP Practitioner! (Accredited with the 1st & leading Society of NLP – with the co-creator of NLP Richard Bandler)NB: (This certificate is valid for enrollment into The Blackbelt Mastermind NLP Practitioner course with a €100 Discount! * To be redeemed in 1 Year)
Also….. IF (on the hugely improbable chance) that you are not satisfied with what you have learned and gained from the day, I will refund you.
Thats how much I believe in what I teach!
So…how much do YOU want to actually make changes???
START RIGHT NOW & BOOK YOUR PLACE TODAY!
Change your Mind and Change your Life!!!
Come and follow me here in the kind'time for tips and lots of feel good stuff!
www.theblackbeltmastermind.com
P.S: Did I mention that you also get my book as a Gift on the day? 🙂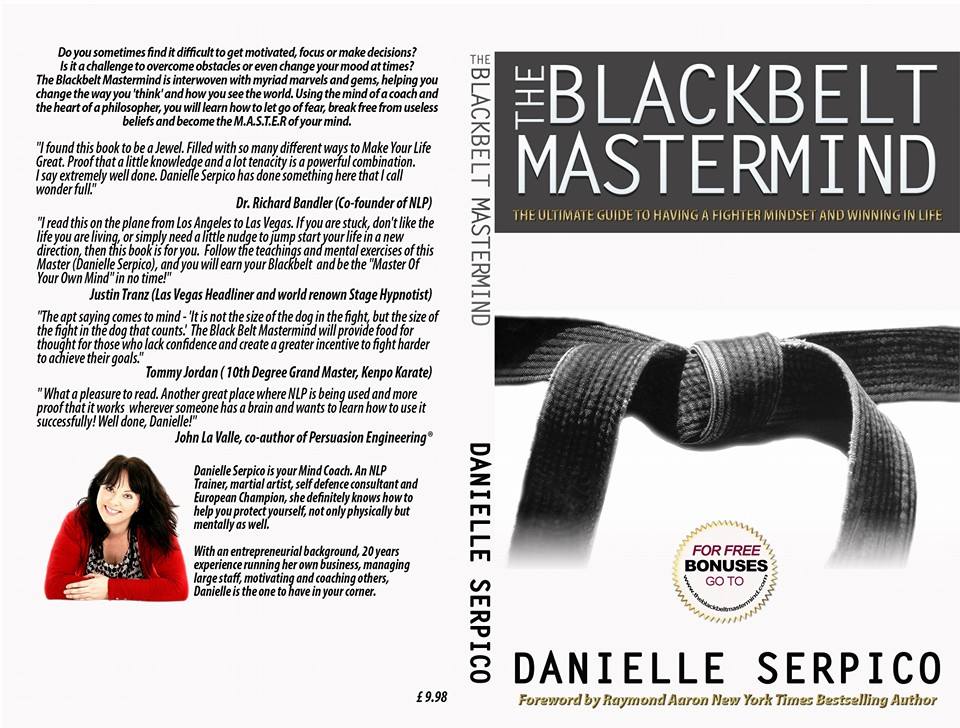 Parking in Drury Car Park across the road –
See you soon 🙂
Danielle
x
www.theblackbeltmastermind.com
Make 2018 the BEST year yet!!!